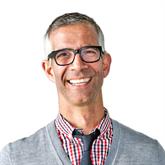 Jim Lesser
President and CEO of BBDO San Francisco
Jim Lesser is one of the few Executive Creative Directors in the advertising industry who is the President and CEO of a major agency network office.
Since taking the lead in San Francisco, Jim has helped the office to more than double in size, thanks to new business from Wells Fargo, Mattel and Mars. The San Francisco team was also a critical part of BBDO's 2015 U.S. Agency of the Year win (thanks to iconic work on Wells Fargo and Barbie) and 2015's Ad Age "A" List honors. They also created one of only 12 campaigns in the world in 2013 to win gold at both Cannes and the Effie Awards–The World's Largest Paper Airplane for the PIMA Air and Space Museum.
Jim began his career as the receptionist in a New York agency before being promoted to copywriter. As a result, he believes a great idea can and often will come from anywhere. Especially the new receptionist.
Jim has served on the Boards of BBDO New York, Dwell Magazine and most recently, 826 Valencia—a non-profit in San Francisco founded to tutor underserved children and help them improve their writing skills.
Jim is a passionate outdoorsman who spends as much time as possible hiking, backpacking, fly-fishing and rock climbing with his wife and two sons.