'The Pumpkin and The Pantsuit' explains the election to kids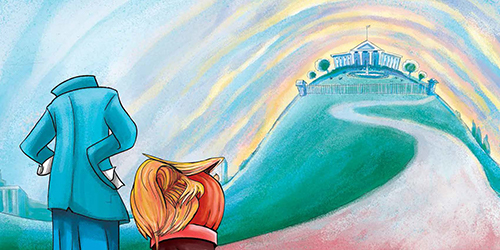 Barrett SF creates a charming storybook about hope for Children's Defense Fund.
On election night, as the world was digesting the news that Donald Trump was elected the 45th President of the United States, CNN commentator Van Jones asked one of the most unforgettable questions of the night, "how do I explain this to my children?" San Francisco agency Barrett created a children's book benefiting the Children's Defense Fund to help answer that question, "The Pumpkin and The Pantsuit." The 48-page storybook uses humorous illustrations to tell the tale of the presidential race and how the two unnamed candidates competed for "the same, shiny dream. They both wanted to live in the big white house." "The goal of this book is to teach kids (and remind the rest of us) that losing is only losing if you give up," said Todd Eisner, co-author and creative director at Barrett SF.