But all is not well in haute couture. In its most recent trading update in January, Burberry described a "tougher environment" for sales, while Hermes warned that it wouldn't be able to match last year's record growth in 2016.
Luxury brands have felt the effects of a slowdown in China – Louis Vuitton shut three stores there in November – and the fact that fewer tourists are flocking to Paris to shop after November's terrorist attacks.
On top of that, there's the rise of the 'insta-consumer', who is used to a Netflix-style economy where everything is on-demand. That means the five-month gap between showing clothes on the runway, and selling them in-store, is no longer tenable.
Here's Marketing's roundup of what's going on:
Burberry says goodbye to the traditional runway rules

Acknowledging the new on-demand consumer, from September Burberry is ditching the traditional 'spring/summer' and 'autumn/winter' designations and making clothes immediately available off the runway.
Burberry's CEO and creative boss, Christopher Bailey, explained the radical move to WWD: "You can't talk to a customer and say, 'We're really excited, we're going to stimulate you and inspire you, but you can't touch it or feel it for another six months."
The changes will mean Burberry customers can order straight from the runway, and the luxury brand will launch "live social media campaigns" to accompany its new collections.
Expect to see Burberry's in-store displays, store windows and digital marketing refresh dramatically after the brand has presented its collections on the runway.
Topshop livestreams runway show on Periscope

Topshop is evolving the livestreaming concept it pioneered this time last year with Twitter, hiring professional photographer Nick Knight to shoot and post its runway show in real time on Instagram and Periscope.
Knight and his team will shoot both backstage looks and the show itself using GoPro cameras, posting to Topshop's 6.2m followers. The show will also broadcast to passers-by from its Oxford Street flagship store, via a 3D window installation.
For a brand that's usually so digital-savvy though, there's one small fail. Topshop is pushing YouTube viewers to its standalone London Fashion Week page, but it isn't live yet. Oops!
Mulberry teases new creative direction on Instagram

Mulberry appointed a new creative director, Johnny Coca, in 2014 and its London Fashion Week show will mark the designer's debut collection with the brand.
Coca, formerly head design director for accessories and shoes at Celine, has been teasing Mulberry's new logo and collection ahead of London Fashion Week on Instagram.
The new logo features Mulberry's brand name in a contemporary serif typeface, alongside its mulberry tree motif.
Lyst taps 'Confused Travolta' meme with London Fashion Week GIF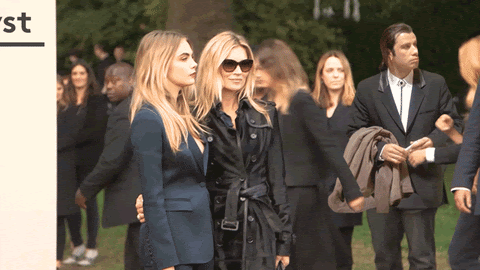 If the phrase 'confused Travolta' doesn't ring any bells, you're obviously too fashionable to hang out on Reddit.
The meme was popular in 2012 and 2013, and involved superimposing John Travolta's character in Pulp Fiction, Vincent Vega, onto a variety of incongruous scenes. In this instance, fashion data start-up Lyst has dropped a confused-looking Vincent right by Cara Delevingne and Kate Moss.
Very.co.uk and LG offer 'style-saving service' for messy fashionistas
Online retailer Very.co.uk has partnered with LG to offer London's fashionistas a 'style-saving' service if they ruin their clothes during London Fashion Week.
Anyone in London's W1 area tweeting @LGUK with '#SaveOurStyle' can arrange a pick-up to have their clothes cleaned, and even get a replacement item.
Temperley London tests out social shopping
In keeping with the slew of fashion brands partnering with tech, and giving voyeurs an immediate fashion hit, Temperley London has partnered with new social networking app Vero.
The app puts emphasis on the ability to share with specific sets of friends, with the designer able to show off its collection with different types of audience, depending on their engagement. The idea is that the most enthusiastic fans get the most content.